The Lake Host Program: Paid Hosts plus MLPA Volunteers
The Mirror Lake Protective Association is an active participant in the Lake Host program, which is administered by the New Hampshire Lakes Association. We need paid employees and volunteers in equal measure. The goal of the program is to prevent the spread of invasive aquatic nuisance species, both plant and animal, from waterbody to waterbody. These invasive species can have a devastating effect on the ecological health of a lake, and can drastically reduce the quality of the experience of lake users. Once established, these invasive species are both difficult and expensive to control. Total eradication of an infestation may be impossible to achieve.
Fortunately, there is good news: to date, all lake associations in New Hampshire that have become involved in the Lake Host program have been successful in keeping invasive plants out of their respective lakes.
Program success depends on paid hosts and volunteers who:
receive Lake Host training
staff the boat launch to educate boaters about invasive species,
conduct brief boater surveys and inspections to remove all "hitchhiking" species,
send all suspicious plant fragments to NHDES for testing.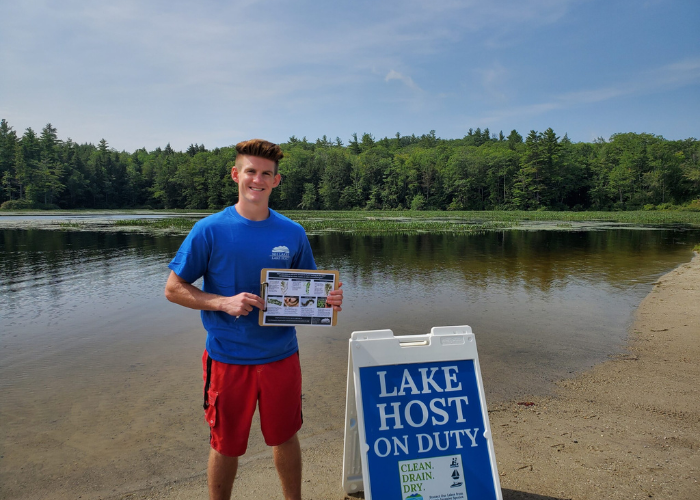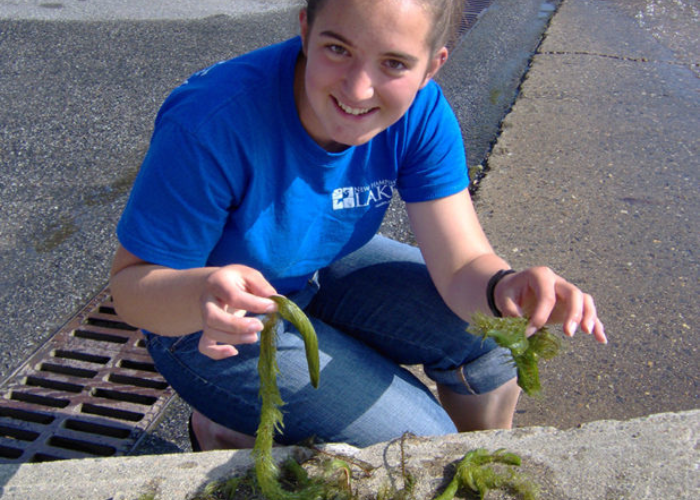 Funding for the Lake Host Program on Mirror Lake comes from the MLPA as well as the NH Lakes Association's Lake Host Payroll Grant Program. The Payroll Grant Program which provides grant funding to cover the salaries of individuals hired as NH LAKES employees to work as Lake
Hosts at the 109 local ramp which is open to the public. Local groups are required to match their payroll award by a minimum of 100% by providing volunteer time and/or by contributing funding to extend paid Lake Host coverage at their ramp.
Through volunteer hours and paid Lake Host hours, our goal is to staff the boat ramp seven days a week at peak hours.
If you are interested in becoming a Lake Host, please contact the MLPA.
Job Description for the Lake Host Program
Paid Position Plus Volunteers Needed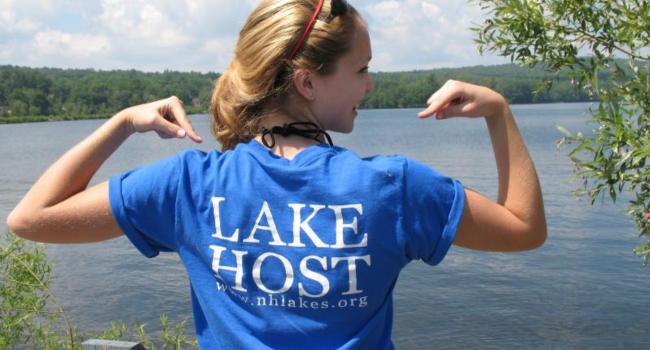 | | |
| --- | --- |
| From: | Mirror Lake Protective Association (MLPA) Contact the MLPA |
| Job Title: | Lake Host, Mirror Lake Tuftonboro, NH |
| Sponsors: | New Hampshire Department of Environmental Services (NHDES;) NH Lakes; MLPA |
| Dates/Pay: | June-September $15 per hour |
| Duties: | Lake Host greets and inspects incoming boats on Mirror Lake |
| Location: | Mirror Lake in Tuftonboro, NH close to the Wolfeboro town line |
| Hours: | Fridays, Saturdays, Sundays, holidays but not during bad boating weather. May need to adjust work hours and be flexible. Early morning and/or early evening for three hours each on Fridays-Saturdays-Sundays-holidays for 13 weeks; Need a car. This job is entirely outdoors. |
Job Description: Lake Hosts look for plants that may be clinging to boats and encourage the boat owner to clean the boat prior to entering Mirror Lake.

"Invasive" plants, unlike native plants, can take over a lake killing the natural, native plants, fish, and other creatures. Lake Hosts teach about rather than enforce local/state ordinances, rules or laws. A Lake Host represents NH Lakes and the MLPA.

Lake Hosts are trained by the NH Department of Environmental Services and learn how to: 1) Educate visitors about invasive plants; 2) offer courtesy boat inspections; 3) show visitors where to look for invasive plants and how to clean them off; and 4) collect samples to be sent to the NHDES.
Responsibilities: Appear in uniform (shirt provided) and greet all arriving and departing boaters and visitors; Conduct boat and trailer inspections with boaters' permission; Follow protocols for removing aquatic plants and animals from boats and trailers and for submitting photos for identification; Collect and enter boater survey data neatly into the field app provided by NH LAKES; Encourage boaters to practice the "Clean, Drain, & Dry" method for preventing the spread of aquatic invasive plants and animals and hand out informational brochures and NH LAKES decals.
Knowledge, Skills, and Abilities: The ideal Lake Host is: Able to conduct a visual and tactile examination of all exterior surfaces of boats and trailers; comfortable interacting with strangers; professional, friendly, polite, and has a sense of humor; task-oriented, self-motivated, and able to deal with 'down time' productively; equipped to work outside safely in a variety of weather conditions; and, committed to providing fact-based information about aquatic invasive species prevention. During long down times, need to be able to keep one's self occupied while waiting. You Can Help Protect Mirror Lake
Protect the lake you love! MLPA is not a homeowners' association. All are welcome.